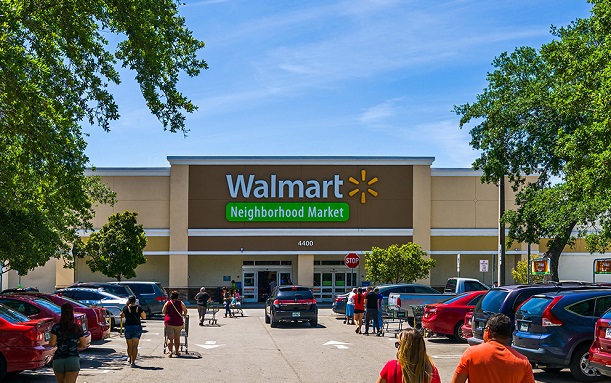 WEST PALM BEACH, FL—Riverstone Capital Group has purchased Forest Hill, a 112,364-square-foot, retail center anchored by a Walmart Neighborhood Market in West Palm Beach, Florida, from Trinity Place Holdings. JLL closed the $19.6 million sale and arranged $13 million in acquisition financing, placing the seven-year permanent loan with SunTrust.
Luis Castillo, managing director, JLL Retail Capital Markets, tells GlobeSt.com that the retail center was significantly renovated by Trinity Place Holdings in 2016, when it signed Walmart Neighborhood Market. He says he isn't sure if Riverstone plans more changes for the property. The center is 93% leased, he says.
Trinity Place Holdings acquired the property in 2012 when it took Syms Corp. out of bankruptcy, Castillo says.
In addition to Walmart Neighborhood Market, Shoppes of Forest Hill is leased to a roster of national, regional and local tenants, including Advance Health Care, Florida Lottery, Tire Kingdom, Taco Bell, Boston Market, Rent-A-Center and Supercuts. The center is housed on approximately 11.9 acres at 4316-4450 Forest Hill Boulevard and is visible to approximately 92,000 combined vehicles a day from its position along both South Military Trail and Forest Hills Boulevard. The property is in the West Palm Beach Retail submarket, one of the densest submarkets in Florida, and has purchasing power of $6 billion within a five-mile radius.
The JLL Retail Capital Markets team that represented the seller also included Senior Managing Director and Co-Head of HFF's Retail Practice Danny Finkle, Director Eric Williams and Analyst Megan Fitzpatrick.
"Trinity Place Holdings successfully executed on the repositioning of Shoppes of Forest Hill and were rewarded with a strong reception for their property," Castillo says. "We are seeing very deep demand from capital sources for well-positioned retail investments with growth and we're confident that an astute investor like Riverstone Capital Group will enjoy solid cash flow and appreciation from this acquisition."
The JLL Capital Markets debt placement team that represented the new owner was led by Director Jesse Wright and Senior Managing Director Chris Drew. Rebecca M. Cox was the lead on the transaction for SunTrust Bank.
"The combination of a great asset with a strong credit profile and a first-class sponsor paved the way for a successful financing," Wright says. "SunTrust stepped up and offered highly accretive terms for Riverstone."