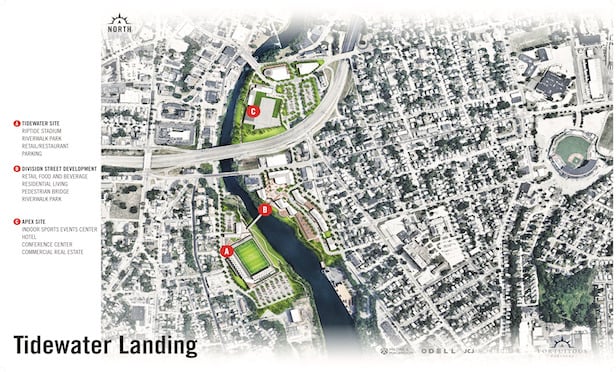 PAWTUCKET, RI—Rhode Island Gov. Gina Raimondo and Pawtucket Mayor Donald Grebien have announced what they term will be the largest economic development project in Pawtucket's history.
The estimated $400-million Tidewater Landing project in an opportunity zone on Pawtucket's waterfront will feature hundreds of thousands of square feet of new development, including a news sports complex that will be home to a professional soccer team that will compete in the USL Championship league—the second division of professional soccer in the United States.
Tidewater Landing, will also include expanded waterfront access through a Riverwalk park connecting downtown to the currently underutilized riverfront, a new pedestrian bridge and other key infrastructure upgrades. In addition to a new multi-use stadium, the selected developer—Fortuitous Partners, a New York City-based investment firm specializing in sports-anchored mixed-use real estate projects—is expected to include a new indoor sports complex, market-rate and workforce housing, a hotel and commercial office space. State and city officials estimate the full project will create more than 2,500 direct and indirect construction jobs and more than 1,200 direct, ongoing jobs once completed.
"Today is an exciting first step towards a $400 million investment in Pawtucket's future," said Gov. Raimondo. "This economic development project will establish a professional soccer team from a leading national league here in Rhode Island, revitalize the waterfront and downtown and create more than 3,500 jobs. Most importantly, it will transform this area into a vibrant hub of activity like we haven't seen in decades."
"This is an opportunity of a lifetime for the city of Pawtucket, the Blackstone Valley and the state of Rhode Island," said Pawtucket Mayor. Grebien. "This $400-million investment in one of Pawtucket's opportunity zones will create jobs and will be a transformative economic development at the gateway into our state."
In April, CommerceRI and the City of Pawtucket issued a joint RFP seeking proposals for the reuse of McCoy Stadium & Pawtucket Downtown Redevelopment. Six proposals were received in response to that RFP. McCoy Stadium is home to the minor league PawSox, which in 2018 announced plans to move out of Pawtucket to Worcester, MA in the 2021 baseball season.
Government officials note that Fortuitous intends to finance the new stadium privately. It is expected that public investment for this project will be primarily focused on infrastructure and other non-stadium components of the development plan.
The total amount of the public investment, which will come from both state and city revenues, will be determined during the 120-day due diligence period. The public investment is expected to be approximately 20% of project costs, which will total in the range of $70 million to $90 million, with an anticipated $60 million to $80 million of that total to be derived from state revenue.
The Tidewater Landing development will include: more than 200 housing units and 100,000 square feet of retail, food and beverage, and other community space; an indoor sports event center; a 200-room hotel; a 7,500-seat stadium that will house a USL Championship soccer team, expected to begin play in the 2022 season, and 200,000 square feet of commercial office space.
The project will also include key public infrastructure investments and new developments such as a pedestrian bridge spanning the Seekonk River that will reconnect Pawtucket to its riverfront. Riverwalks will also be developed on both sides of the river.
The project is currently focused on the Tidewater and Division Street sites that are owned by National Grid and the City, respectively. The final development sites, phasing, construction costs and schedule for the project will be finalized during an upcoming due diligence period.
Fortuitous has secured the exclusive rights to the USL Championship team in Rhode Island and will build an ownership group headed by Brett M. Johnson. Fortuitous and the USL team, during the due diligence period, will enter into a long-term commitment to the stadium.