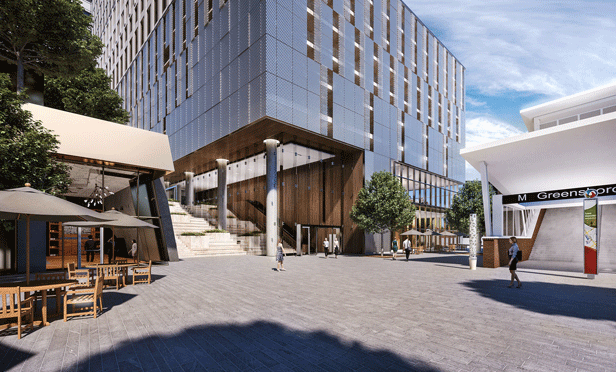 TYSONS, VA – Foulger-Pratt and USAA Real Estate will soon begin construction on the 383,628-square-foot office building, Tysons Central, within the redeveloped Tysons neighborhood.
Located next to the Greensboro metro station, the 25-story building will combine 350,000 square feet of workspace and 25,000 square feet of retail space.
Aiming to offer a workspace that enhances tenant experience through on-site amenities, the Gensler-designed tower will feature a two-story lobby, two elevated terraces, a fitness center, electric car charging stations and floors ranging from 26,000 square feet to 29,000 square feet.
Scheduled to deliver in 2021, the office building serves as the area's only full-building opportunity for new trophy-class construction.
USAA Real Estate joined the project in September 2018 as an early investment into the Tysons transformation from an office and business district into a mixed-use, urban community.
Committed to the market's redevelopment, Foulger-Pratt additionally purchased a 210,000 square foot office building in Tysons for $35 million in September.
Avison Young's brokerage team of principals, Dave Millard, Peter Berk, Mike Shuler and Nick Gregorios, and senior associate, Caroline Guidera, has been retained for office leasing at Tysons Central.
A privately-owned real estate investment firm, Foulger-Pratt focuses on developing mixed-use, transit-oriented projects. Founded in 1963, the firm has executed more than 15 million square feet of commercial office, multifamily residential and retail projects.
Providing co-investment, acquisition, build-to-suit and development services for investors, USAA Real Estate additionally arranges commercial mortgage loans on behalf of affiliates, as a subsidiary of USAA.